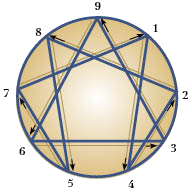 enneagramTexas.com is affiliated with Enneagram Worldwide. Please visit their website for more information about types, relationships, workshops, and personal development.
Here is a link for taking the Enneagram test online.
Tom Condon has done a lot of work with the Enneagram, NLP and Eriksonian hypnosis. Much of our movie information comes from his work.
Suggested reading (all titles are available at our workshops):
The Enneagram
Understanding Yourself and the Others in Your Life
by Helen Palmer
HarperSanFrancisco, 1988 order here
The Enneagram in Love & Work
Understanding Your Intimate & Business Relationships
by Helen Palmer
HarperSanFrancisco, 1995 order here
The Essential Enneagram
The Definitive Personality Test and Self-Discovery Guide
by David Daniels, M.D., and Virginia Price, Ph.D.
HarperSanFrancisco, 2000 order here
We are grateful to David Daniels, M.D., Helen Palmer, Peter O'Hanrahan and J.D. Daniels, PhD. for working with us over the past few years. The Enneagram community all over the world holds a special place in our hearts.